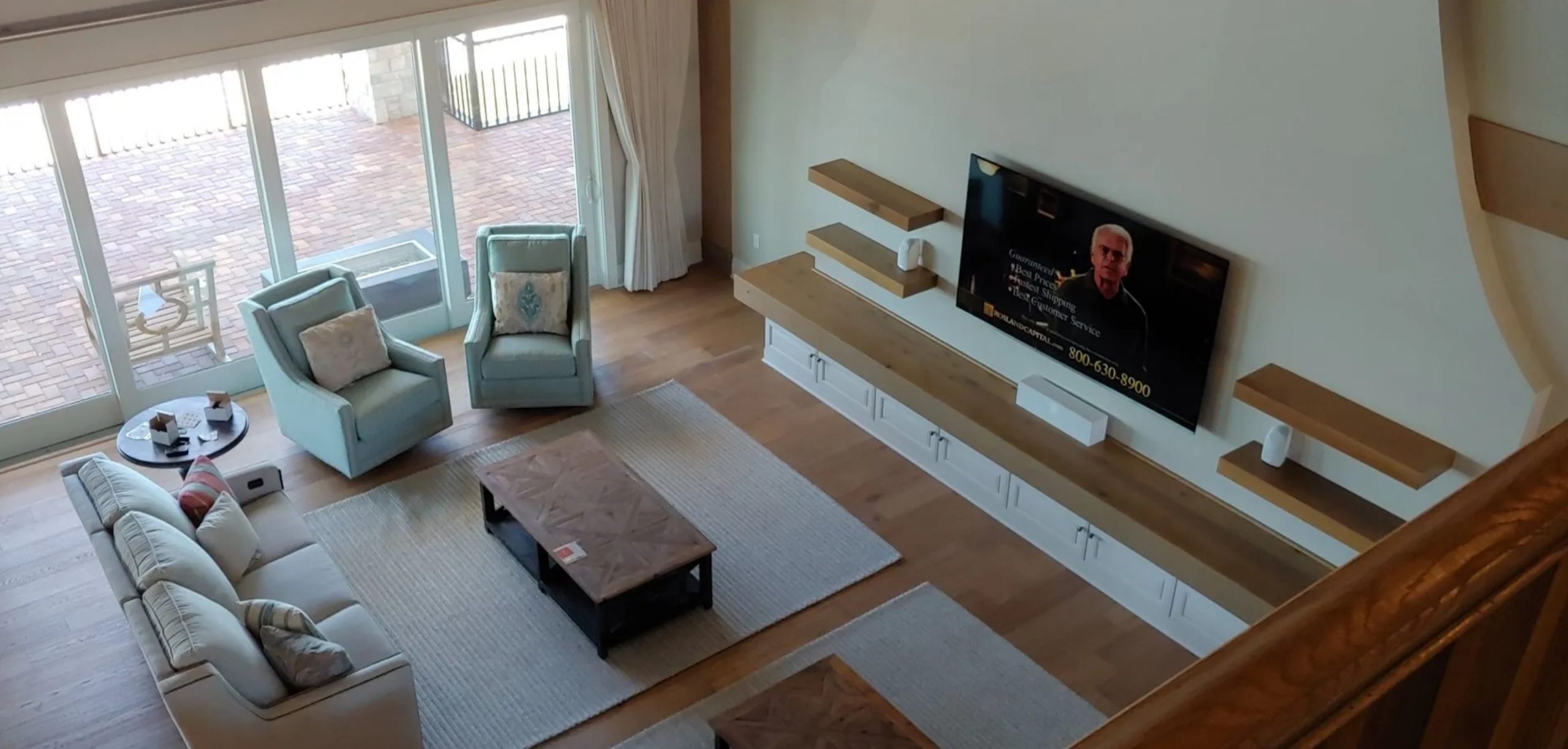 Why blow your budget on movie theater tickets when you can enjoy the booming sound, sharp image quality, and unforgettable experience of the movies without ever leaving the comfort of your home?
Home theater installations are on the rise in the Tampa area, and it's not hard to see why: With today's audio-video technology, combined with endless streaming options, it's easier than ever to create an authentic movie theater experience at home. So why deal with rowdy crowds, sticky floors, and all the other drawbacks of the movie theater, when HOZ TV can put in a top-quality home theater system that brings you the full sound and video experience without any of the negatives!
Call today to learn more about the professional home theater installers at HOZ TV in Tampa, FL.
Awesome Deals on the Latest Home Theater Setups
With today's 4K smart TVs, sophisticated surround sound systems, ultra-HD projectors, and high-speed streaming platforms, you can easily recreate the sharp image and sound quality of the movie theater right in your own living room. And HOZ TV makes this easy by specializing in home theater system installations of all sizes and scopes.
Our home theater installers offer complete sales and installation on all of the latest products and equipment, and we'll give you everything you need to create a complete movie theater experience. From wall-mounted TVs to in-ceiling speakers to Blu-Ray players and beyond, we supply and install it all. 
In fact, our experts can help design your living room or basement home theater and help you pick out all of the right products, taking your style and movie-watching preferences into account as well as room dimensions and acoustics. Additionally, we'll go through our wholesale vendor and save you up to 10% on what you'd pay at a big-box retailer!
If you're ready to upgrade your home with the best in home theater installation without breaking the bank, call HOZ TV today!
Versatile, Custom Home Theater Systems
From basic flat panel installations to complete home theater installations, HOZ TV has you covered. Whether you'd like to convert your existing basement into a "man cave" with home theater wiring, or outfit your newly constructed house with a dedicated home theater room, we're here to help. Plus, all of our labor is backed by a 6-month warranty.
Our home theater contractors provide complete, correct workmanship on every project for long-lasting performance and a great appearance. Going the extra mile, our home theater installations include completely hidden cables for a sleek, finished appearance. We also utilize a full array of brackets and mounting options to ensure your screen and speakers are properly positioned for optimal enjoyment.
HOZ TV's home cinema installation can include virtually any feature you desire, such as:
TV wall mount installation
"Invisible" home theater wiring
Projector and projection screen installation
Blu-Ray DVD players

Cable boxes and equipment

Satellite receivers
Surround sound installation
In-wall or in-ceiling speaker installation
Speaker wall mount installation
Built-in voice control
HDMI connectivity
WiFi and Bluetooth connectivity
And much more!
Starting with your initial consultation and free estimate and ending with the final clean-up and inspection, our home theater installers will take great care of you. When it's time to upgrade your home for the best in home audio video entertainment, HOZ TV is ready to help you get the absolute most out of your home theater installation.
Call now for service in Tampa, Brandon, Riverview, and surrounding areas!